These guys are my favorite receiving prospects coming into the draft. What is special about these prospects is none of them are first round picks and it is likely they can all be had in the 3rd round and beyond which is perfect for a team that is gonna be trading down a lot this draft. Not only that they are all tall, outside the numbers, playmaking receivers that can provide the vertical threat this offense has been missing badly in the playoffs and we don't even have to spend a 1st or even 2nd rounder on em. Call it the bargain list of WRs, all big, all have good hands, all can make plays, all of them are affordable. Remember to hit that REC button if you like this list and would like to see more.
#1
Aaron Dobson - Marshall - 6'3, 210 lbs, 4.5s. Projection: 2nd-4th round
Probably the most complete and polished WR out of the group.
STRENGTHS:
Savvy route-runner whose body control and reliable hands made him a standout at the Senior Bowl. Good attention to detail. He sets up defensive backs well, selling his routes to push defensive backs deep even on running plays and showing off strength and determination as a downfield blocker. Adequate speed and a long-strider. Can leap high, contort his body and haul in difficult passes in deep coverage. Very good hand-eye coordination and shows the ability to make the difficult reception look easy. Is consistently able to make the reception despite defenders in close proximity. Dobson does a great job of fighting through the press at the LOS. He has excellent footwork and the ability to stop on a dime to sit into an open area. He has not been helped by the quarterback play at Marshall, but he has been productive. Voted team captain in 2012. Dobson does a great job of fighting through the press at the LOS. He has excellent footwork and the ability to stop on a dime to sit into an open area. Dobson lines up almost every play on the left side of the field
WEAKNESSES: May be a better football player than athlete and therefore may lack upside. Good, not great quick-twitch athleticism to make defenders miss in tight quarters and does not possess elite top-end speed. -Lacks a fifth gear to separate at the top of his route. Smaller than expected hands (8 1/2") given his size. Is not the punishing blocker his size would indicate, though he made improvements in this area as a senior. Dobson does not look like a quick player who will beat corners over a short area as he relies on his pure speed and not foot quickness. Has improved, but needs more precision on underneath routes, rounds them off a bit. Underwhelming production. Dobson totaled 679 yards with three touchdowns on 57 receptions in 2012, but he only had one 100-yard receiving game. Sophomore receiver Tommy Shuler was the far more productive wide out with over 50 more catches and almost 500 more yards. Has had some trouble with hip, ankle, knee injuries.
#2
Chris Harper - Kansas State - 6'1, 230 lbs, 4.5s Projection: 3rd-6th round
STRENGTHS: Polished route runner and looks like a prototypical possession receiver. Arguably is the best router runner in his conference. Harper has consistently showcased physical dominance at the catch point. Adept at using his hands to separate at the catch point, box out and attack the ball away from his frame, Harper's physicality and body use allow him to make catches regardless of the coverage behind him, similar to Aquan Boldin. Very reliable hands. His soft hands, uncommon body control and concentration lets him reel in nearly every ball thrown his way and consistently makes tough contested catches. Was productive with limited opportunities in K-State run oriented offense. Former QB, still has much room to grow as WR. Good physical run blocker.
WEAKNESSES: Harper isn't overly explosive and is more of a one-speed player.Lacks athleticism to be a deep threat, does not have the speed to create much separation down-field, will struggle to get away from NFL DBs. Concentration falls off at times.
#3
Aaron Mellette - Elon - 6'2 217 lbs, 4.5s. Projection: 4th-7th round
Love this guy's potential, he only started playing football sophomore year of high school. Originally was committed to playing basketball. Probably why he played in a small school rather than a powerhouse, he was still learning how to play the game. By 2010 he was dominating his conference. He seems to be one of those Jimmy Graham types who using their B-ball background box out DBs for the ball. SInce he's only got 5 years of playing football under his belt you got to think he will only get better as he learns the game more.
STRENGTHS:
While he may not be a true speedster, Mellette is the type of big, physical, sure-handed receiver who excels on underneath routes, and he also possesses the type of leaping ability to out-jump smaller defensive backs on fade routes and deep bombs. Uses his length well to extend off his frame and go get the football. He showcases some short area quickness of the line and on inward breaking routes, keeps his feet under him and has the ability to gain an initial step. Absorbs contact well and can glide his way through the bump and get behind corners at the I-AA level vertically. Is a strider who builds speed and the further down the field he gets the tougher he is to cover. Tracks the football well and showcases good ball awareness when asked to adjustIs very natural collecting himself quickly, adjusting to the throw and winning in jump ball situations. He had some big production against higher level competition.
WEAKNESSES: Needs to improve as a blocker. Low level competition. Lacks top-end speed and explosion out of his breaks. Struggles to create separation at times. Needs to improve route running, can look downright sluggish on routes at times. He might not possess the quickness in his routes that will be necessary to beat defenders at the next level, which is something he certainly has to work on to be an NFL success.
#4
Marquess Wilson - Washington State - 6'3 , 194 lbs, 4.5s Projection: 4th-7th round.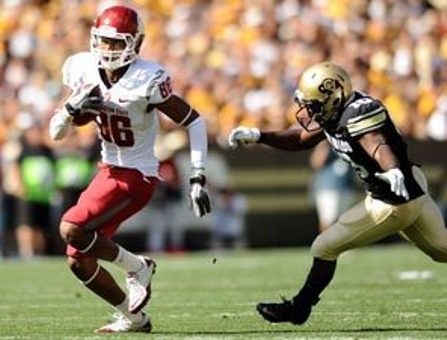 STRENGTHS:
Wilson is a big receiver who has outstanding hands and body control. He has good concentration that allows him to make a lot of tough catches over defensive backs. Wilson fights for the ball and is quite familiar with making contested catches. He uses his height to his advantage and is a good red-zone weapon. Just fantastic at high-pointing the ball, and is a jump ball monster. Though not a classic burner Wilson is a natural pass-catcher with impressive body control and deceptive speed. He will come back to the QB when the play breaks down. Wilson has outstanding hands and the wrist strength to come down with the ball. Wilson has the stride to simply run past defenders once he gets started. Extremely productive in his first two years as a member of the Cougars, hauling in 137 passes for 2,394 yards and 18 touchdowns. Managed to be productive with pretty awful quarterback play overall.
WEAKNESSES:
Wilson is very thin at 185 pounds and he needs to add bulk to his frame. He needs to get stronger or teams will press him at the LOS and negate him. Wilson is not a great route-runner as he is sloppy at the top of his route. He chops his feet and gears down into his breaks and it is a huge tell for the defense. Wilson gets very little initial separation because of wasted, sloppy footwork and he is just not a quick athlete. There is very little suddenness to his game, but his stride is long and elusive. He needs to improve on his route running, especially at the top of his route where he can get sloppy. He doesn't seem to get lots of separation from cornerbacks. Wilson routinely makes contested catches over defensive backs, but it would be good to see him work himself more open with quickness.