What a Different Six Weeks Make
Patriots Seek 4-0 Division Record
Don't expect a repeat performance of Week 1.
Buffalo will probably be intent on stopping New England's rushing attack, something they didn't do in Week 1, and try to force Brady to throw. But this is not the same passing offense the Bills contained six weeks ago when Brady was a mere 11 of 23 for 163 yards, 2 touchdowns and an interception.
Only six receivers caught passes that day, and only two of them were wide receivers. Two others were running backs, and the other two were tight ends. Chad Jackson hardly played, and he hadn't played all preseason. Doug Gabriel wasn't even in Foxboro yet. The team was still burdened with the Deion Branch saga. And now Jabar Gaffney will be on the sidelines if not on the field.
I wouldn't expect Buffalo to score on the first play from scrimmage, regardless who has the ball. The Bills aren't going to surprise New England with a blitz on first down. That's not to say Buffalo can't score early and put the Patriots collective back to the wall early in the game. It's just not as likely this time around.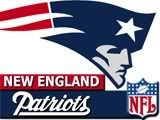 New England Patriots (4-1) at Buffalo Bills (2-4)
These are teams headed in different directions. After a semi-solid start, Buffalo has been struggling. Entering Week 4 at 1-2, the Bills edged past visiting Minnesota and then got crushed by Chicago. Last week, Buffalo suffered a somewhat embarrassing loss to previously winless Detroit.
New England has been far from dominating, all things considered. But, as has become their calling card, the Patriots find ways to win. After squeaking past Buffalo in Week 1 and man-handling the New York Jets in Week 2, New England dropped a tough game at home to Denver. A convincing win in Cincinnati was followed by a lackluster performance home against Miami.
Three of those five not-so-great performances have come against division opponents, and New England is inconsistent against those teams. Last year, the New England Patriots played their first division opponent of the year -- the Buffalo Bills -- in Week 8. This year, it's Week 7, and New England has already played all three division opponents, and is facing Buffalo for the second time. But, as head coach Bill Belichick will tell you, "we just play the teams on the schedule."
A win would make the Patriots 4-0 in the division, guaranteeing them a winning divisional record and all but sewing up that tiebreaker. A loss would keep the door open for the Jets, who come to Foxboro in three weeks.
Numbers don't always tell the story, but, statistically, New England maintains a distinct advantage.
The Patriots are 10th in overall offense (336.8 yards per game). They'll be facing Buffalo's No. 18 defense (322.5 ypg). New England's rushing attack is ranked sixth (139.0 ypg). Rookie running back Laurence Maroney is No. 25 in the NFL in rushing with 332 yards in five games, and teammate veteran Corey Dillon is right behind at 28th with 281 yards. Buffalo's rushing defense is 20th (117.2). Brady's air game is 18th in the league (197.8), and the Bills passing D is also 18th (205.3).
On the other side, Buffalo's overall offense ranks a dismal 29th (261.8 ypg) while the Pats defense is a middle-of-the-pack 13th (308.0 ypg). Buffalo's moderate running game is 19th in the league (101.8), led by Willis McGahee, who is ranked 5th in the league with 505 yards. That doesn't say much for the rest of Buffalo's running backs. The Patriots rushing defense is a solid No. 8 with a meager 85.6 ypg. J.P. Losman leads the Bills 29th-ranked passing offense (160.0 ypg), but New England's passing defense has been less than stellar (25th, 222.4 ypg), allowing several big plays, many of them for points.
Brady, who led the league in several passing statistics last season, is currently 21st in yards with 1,031. Like Maroney's and Dillon's numbers, the can be a little misleading because the Patriots have played five games while most of the cumulative leaders have played six. Case in point: Losman is five spots ahead of Brady with 1,121 yards. Consider that Brady has 8 TDs and 3 INTs, while Losman has 6 TDs and 5 INTs.
Still, there's no denying Brady's production is down. As I've cataloged several times, there are many reasons for the decline, but I remain confident that this is temporary. No, he won't return to the prowess of last year, but that's because it's not necessary with the vastly improved running game and cohesive offensive line. But, expect dramatic improvement in the overall efficiency of the passing game once that unit is healthy and all the new receivers and Brady have had sufficient time to work together. I'd say they should be looking pretty good come the playoffs.
The statistic that really does tell the story is the score, and New England's offense ranks 11th with 21.6 points per game, while Buffalo's defense is allowing an average of 20.8 and is ranked 18th. Meanwhile, the Bills offense is just 26th (15.7 ppg) and the Patriots bend-don't-break defense allows a stingy 14.8 ppg (ranked No. 6).
And just for your information and enjoyment, Buffalo is -4 in turnover differential, while the Patriots, after a slow defensive start, have pulled themselves to even.
The defense has been the foundation from the beginning, and that's to the surprise of no one. The Patriots biggest problems last year defensively were injuries; and, so far, that hasn't been a major issue yet. Yes, there are some concerns in the secondary, as there always seems to be, but not to the most-key players, and the line and linebackers are 100 percent.
The Bills are nearly injury free. Their biggest problem is on the offensive line where center Melvin Fowler (thigh) and left guard Tuten Reyes (shoulder) are both listed as "questionable." The Patriots have several players with nagging moderate injuries, including tight end Daniel Graham, backup center Russ Hochstein, tackle Nick Kazcur, free safety Eugene Wilson and cornerback Ellis Hobbs. All are listed as "questionable."
Friday, New England added running back Kevin Faulk and linebacker Don Davis to the injury report. Both were listed as "questionable."
While the overall report is less than encouraging, the Patriots should survive with any number of those players sitting out. The good news is New England's defensive front seven and their backups are all healthy, and those couple ailments on Buffalo's offensive line should make the Pats defense's job a little easier while adding pressure to Losman and running backs McGahee and Anthony Thomas (Remember the "A-Train"?).
Weather could be a factor: steady rain with temperatures in the 50s and medium winds of 10-20 mph. Probably not a good day for throwing. Or catching. Or kicking.
Which brings me to Adam Vinatieri replacement, Stephen Gostkowski. The rookie is 13 of 13 on extra points, and while he struggled early on field goals, he's had a couple good weeks. He's 5 of 8 overall, going 2 of 3 from under 30 yards, 3 of 4 from 30-39, and 0-1 from 40-49. And he's done a pretty stellar job on kickoffs; he's 4th in touchback percentage (30.4). For now, the kid's alright.
Prediction: Patriots, 27-13.
Keep an eye on today's open thread for the game for the officiating crew (currently unknown), player inactives and game-time commentary.
Today's game will be broadcast on WBZ-TV Channel 4 in Boston. Greg Gumbel is the play-by-play announcer with Dan Dierdorf on color commentary. As usual, while I listen to the hacks on TV, I highly recommend tuning into Gil Santos and Gino Cappelletti on the Patriots Rock Radio Network (WBCN 104.1 FM in Boston -- here is a list of New England radio stations that carry the simulcast.