Pats Meet Division Nemesis
Battle for Top Seed Starts Today
Half the time I think this, more than Detroit, is the true "trap game." Half the time I think the New England Patriots will demolish the Miami Dolphins. In either case, each of these last four games is a "must win" until the top two seeds in the conference are decided.
There are a lot of reasons to think Miami can pull of a win today. The first is that they're a division rival, know the Patriots well, and always play them tough. The corollary to that is that the Dolphins are playing at home, which is always tougher, and part of the reason for that is the weather. Today's highs are expected to be in the mid- to upper-70's with humidity around 60 percent.
Miami also has a more-than-solid defense, one that almost always gives Patriots quarterback Tom Brady his share of trouble. In yards allowed, the Dolphins are sixth overall, fifth against he pass and eighth against the run. They allow just 18.5 points per game, which ranks them eighth.
Having lost an absolute must-win game last week against Jacksonville, Miami is effectively out of the playoffs. The best they can finish is 9-7, and that's almost definitely not going to be enough in the AFC (though it might win a division in the NFC). Miami, two games behind five other teams with only four to go, no longer has anything to lose and can play loose and reckless.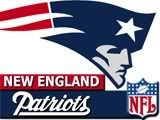 _ _ _

New England Patriots (9-3) @ Miami Dolphins (5-7)
Miami, until last week, was a different team with Joey Harrington at quarterback. After losing their first three with Harrington at the helm, Miami reeled off four straight wins to get back in the thick of the division and playoff races. Still, that's four out of five. This is not the team that started the season 1-6.
Rookie running back Laurence Maroney has been downgraded to "out" for today's game. His absence could be a big factor against this defense.
The head referee is Larry Nemers. Nemers's crew worked the Monday Night Patriots at Minnesota Vikings game. Minnesota accepted nine penalties against New England (not sure how many were called), and New England accepted six against Minnesota. Looking back on our open thread from that game, there were several questionable calls, including a couple plays that even upon review appeared bungled.
That was also the game that Minnesota quarterback Brad Johnson apparently completed a pass to tight end Jermaine Wiggins, and Wiggins fumbled the ball out of bounds. On a 3-and-3, it would have been a first down. Belichick rode the officials, and got them to change the call to incomplete. Minnesota was forced to challenge, and even then, they called it incomplete, which appeared to be the wrong call, and Minnesota had to punt. It was a key play in the game, it benefited the Patriots, and it was still wrong.
In any case, Nemers and his crew a far from stellar, and it's a double-edged sword.
There are plenty of reasons to believe New England will walk over Miami, too.
First is Harrington, demonstrating again for us the function of a double-edged sword. In the games Miami won with Harrington at quarterback, all in November, Harrington had more touchdowns than interceptions or had equal numbers of both (3-2, 0-0, 1-1, 3-1), and his quarterback rating improved weekly (66.8, 71.3, 76.9, 107.4).
But his other four games (three in October, one in December), while still better than Daunte Culpepper, are far from spectacular. His touchdown vs. interceptions in those games are 0-2, 1-2, 2-3 in September and 1-2 last week. His ratings are 58.2, 68.6, 64.9 in September and 70.2 last week. Dismissing a couple really awful games, Harrington is generally around 60 to 65 percent completions.
His first game in September was against New England, and it was his worst (note the 0 TD, 2 INT, 58.2 rating on 26 for 41 passing.
Alas, the Patriots defensive secondary is a mess again, and they didn't look especially swell against Detroit last week. Despite a couple recent signings, it is a major cause for concern.
Miami may rely on Harrington a lot more in this game, too. While the Dolphins are relatively healthy, first-string running back Ronnie Brown is out for the game. Brown has more receiving yards than the rest of Miami's running backs have combined rushing yards. Miami's loss last week also cuts both ways. While they have nothing to lose, they really don't have much to gain, either. Like George Costanza, they have virtually no reason for even getting up in the morning.
Despite the Dolphins overall defense, the good news is that they don't particularly excel on turnovers. They're very middle of the pack with 20 takeaways, tied with a whole slew of teams. They're slightly worse than average in giveaways with 22. The Patriots areeven slightly worse in that department with 24 giveaways, but they are near tops in the league in takeaways -- No. 3 with 27.
The Patriots won the first meeting, 20-10, in Week 5. New England can clinch the AFC East division title with a win over Miami and an unlikely New York Jets loss to Buffalo.
Prediction: Patriots, 20-17.
Today's game will be broadcast on WBZ-TV (CBS) Channel 4 in Boston. As for the game, Dick Enberg is the play-by-play announcer with Randy Cross color commentary. As usual, while I listen to the hacks on TV, I highly recommend tuning into Gil Santos and Gino Cappelletti on the Patriots Rock Radio Network (WBCN 104.1 FM in Boston -- here is a list of New England radio stations that carry the simulcast.
Poll
Against Miami (Week 14), the Patriots will ...
This poll is closed
... win by more than 10.

(0 votes)

... win by 10 or less.

(3 votes)

... lose by 10 or less.

(1 vote)

... lose by more than 10.

(8 votes)
12 votes total
Vote Now