Backs Against the Wall
Patriots, Foes Face Must-Win Situation
While I'm far from worried that the New England Patriots are going to miss the playoffs, there are several reasons to consider today's game at the Jacksonville Jaguars "must win."
No one wants to see this come down to Week 17. A win seals the AFC East division title. A loss by the New York Jets (at Miami tomorrow night) does the same, but the other point is a team wants to enter the playoffs winning, playing well, getting hot. This Patriots team, unlike others of the last several years, do not appear to be playing their best football of the season. A loss this week or next would disengage them from that theoretical wonderland of zero or one loss in December.
Winning in Jacksonville is without question a tall order. The Jaguars are a hard-hitting, physical team -- the last thing the Patriots need this particular week.
Nose tackle Vince Wilfork is inactive today. That means that Mike Wright, who had a great game last week (but it was against Houston) will take his place. The Patriots may also play a little more 4-3 defense. If Wright appears to be overmatched, expect Wright to head back to the sideline, Ty Warren to move inside, and Jarvis Green to play end.
Either way, it's a far cry from having Wilfork, who has been having a career year, man the middle against Jacksonville's punishing rushing offense, which with 163.1 yards per game is No. 2 in the league ahead of San Diego.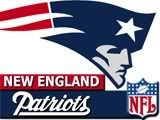 _ _ _

New England Patriots (10-4) @ Jacksonville Jaguars (8-6)
Offensive tackle Ryan O'Callaghan is also inactive, and with Jacksonville sure to throw everything but the kitchen sink at Tom Brady, New England will be ultra thin at tackle, with just starters Nick Kaczur and (help us) Matt Light left between ...
I don't even want to think about it.
Jacksonville faces an unmistakable must-win situation. The Jaguars are tied for the with three other teams (the Jets, Denver and Cincinnati for the two Wild Card playoff spots. And there are several other teams only one game behind. Denver and Cincy both have the tiebreaker edge over Jacksonville, so Jacksonville needs to win and needs the Broncos or the Bengals to lose.
Revenge plays virtually no part in such games, but I'll mention it. After last year's blowout loss in Foxboro in the playoffs last year, Jacksonville is licking its lips to have New England down south in what essentially is a playoff game.
Unlike last week's game against Houston, in which New England dominated the pregame stat sheet, the Patriots-Jaguars statistical comparison is a little more competitive. Both teams score an average of 22.9 points per game, good for a tie for ninth in the league. The Patriots are back in second in points allowed (13.8) behind Baltimore (13.4). Jacksonville is fourth with 15.4) with Chicago (14.9) in third.
In overall offense (yards gained), Jacksonville is 12th (334.8), New England is 13th (328.3). In overall defense, the Jaguars are second (270.3) and the Patriots are sixth (287.8).
In rushing defense, these teams are right on top of each other again. Jacksonville is third, New England fourth. Jacksonville enjoys more of an edge in passing defense, ranking seventh, while New England and its poor-tackling secondary is 13th. Offensively, Jacksonville has that brutal second-ranked rushing offense. New England, with Laurence Maroney and Kevin Faulk both uncertain with injuries, is 13th (again).
The Patriots finally enjoy a margin in passing offense. New England is 14th (just a shade from 13th), but Jacksonville is far down the list at 27th. With the Patriots' battered and subpar secondary, that's a bit of a relief. Let's call it "cold comfort" for now.
Like New England's Corey Dillon - Laurence Maroney tandem, Jacksonville has a similar situation in the rejuvenated Fred Taylor and rookie protégé Maurice Jones-Drew. While Maroney made the trip, he has been banged up. Meanwhile, Taylor is out for the Jaguars. Jones-Drew has looked pretty good in the last several games, but his 5.7 yards per carry is a little deceiving.
With Doug Gabriel sent packing a couple weeks ago, New England re-promoted Bam Childress from the practice squad. It's completely conceivable he'll play today. Also, with Ken Walter joining Josh Miller on the punter IR, the Patriots signed former Pro Bowler and substance abuser (ephedra) Todd Sauerbrun. He was pretty good at one time, but he hasn't impressed anyone for a while. We'll see if he's better than nothing. (You think we could get Doug Flutie to come back for a few dropkicks?)
New England didn't look so hot in steamy Miami a couple weeks ago. Today in Jacksonville, the forecast calls for mostly cloudy skies with showers possible later in the game. Temperatures should be in the low 70s and humidity could range from 60 to 70 percent. Personally, not what I consider football weather, and certainly not the type of conditions under which New England thrives.
I seem to have ripped most of the officiating crews that have called the Patriots games this season. There's much agreement that officiating is at an overall nadir in the NFL. It seems the AFC has the worst of them, for some reason. Today, we get Walt Anderson, and let me tell you: This could get ugly. His crew leads the league in replay challenges overturned. Anderson's crew hasn't worked a Patriots game this year, but you'll probably recognize him. You'll certainly recognize him next time.
This is going to be a tough one. I'm concerned about the key injuries and the fact that there are really no more serviceable backups left. But I think New England is still the better team, and (despite very recent history) can come up big when absolutely necessary.
Prediction: Patriots, 23-20.
Today's game will be broadcast on WBZ-TV (CBS) Channel 4 in Boston. I have no idea who's calling the game, but I'm guessing it will be Greg Gumbel and Dan Dierdorf. But really, them or Jim Nantz and Phil Simms, or Dick Enberg and Randy Cross -- what difference does it make?
As usual, while I listen to the hacks on TV, I highly recommend tuning into Gil Santos and Gino Cappelletti on the Patriots Rock Radio Network (WBCN 104.1 FM in Boston -- here is a list of New England radio stations that carry the simulcast.
Poll
Against Jacksonville (Week 16), the Patriots will ...
This poll is closed
... win by more than 10.

(0 votes)

... win by 10 or less.

(4 votes)

... lose by 10 or less.

(1 vote)

... lose by more than 10.

(0 votes)
5 votes total
Vote Now