Contenders or Pretenders?
Patriots, Cowboys Meet in 'Message' Game
This game is a statistician's dream.
It's only fifth meeting between undefeated teams with at least five wins. Two were in the 1920s when the league was still young. The third was more than 30 years ago. The most recent was when New England beat the New York Jets, 13-7, just under three years ago.
New England has never won in four attempts in Dallas, and the Cowboys lead the series 7-2 (winning the first 7, losing the last 2). Of course, most of those games were years ago. The most recent meeting was a 12-0 Patriots win in November 2003. The most recent meeting in Dallas (December, 1996), the Cowboys had won three of the previous four Super Bowls and won that game, 12-6.
The Patriots are 10-22 all time against the NFC East, but the last time they played that division (2003), the were 3-1. Since 2001, New England is 23-4 (.852, all Tom Brady games) against the entire NFC, including winning the last seven straight (and that includes three Super Bowls). Brady has 18 touchdowns and 5 interceptions on 155 of 232 (.668) passing with a passer rating of 110.9 in those 27 games.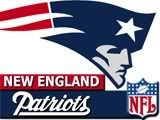 _ _ _

New England Patriots (5-0) @ Dallas Cowboys (5-0)
Texas Stadium, October 14, 4:14 p.m.
Then you can go into current team stats:
Yards gained: Dallas, 1st (429.6); New England, 2nd (427.8).
Yards allowed: New England, 2nd (251.4); Dallas, 8th (285.4)
Rushing yards: New England, 3rd (155.0); Dallas, 7th (137.2)
Rushing defense: New England, 5th (74.2)); Dallas, 7th (80.6)
Passing yards: Dallas, 2nd (292.4); New England, 3rd (272.8).
Pass defense: New England, 6th (177.6); Dallas, 12th (204.8)
Points scored: New England, 1st (36.4); Dallas, 2nd (35.2)
Points allowed: New England, 3rd (tie, 13.0); Dallas, 13th (19.2)
Touchdowns scored: New England, 23; Dallas, 21
Touchdowns allowed: New England, 8; Dallas, 11 3rd-down conversions (pct): Dallas, 48.5; New England, 43.1
3rd-downs allowed (pct): New England, 29.4; Dallas, 38.1
Average time of possession: New England, 34:31; Dallas, 31:44
Sacks allowed: Patriots, 3; Dallas, 6
It goes on an on.
But how much does turnover differential (Patriots, +7; Dallas, +2) or defensive sacks (Patriots, 14; Dallas, 12) mean in Week 6 -- especially when both teams appear so evenly matched?
There's one more statistic that the anti-Patriots crowd likes to note: New England has played a cupcake schedule. That's not how it looked before the season, but Patriots' opponents are a combined 7-17 (N.Y. Jets, 1-4; San Diego, 2-3; Buffalo, 1-4; Cincinnati, 1-3; and Cleveland, 2-3). That's a combined winning percentage of a pathetic 29.2.
But at least all of New England's opponents have won a game. Dallas has played two winless teams. The Cowboys' opponents are an even worse 6-19 (N.Y. Giants, 3-2; Miami, 0-5; Chicago, 2-3; St. Louis, 0-5; and Buffalo, 1-4). That's a combined winning percentage of 24.0.
New England faced San Diego when the Chargers were 1-0. None of the other teams either New England or Dallas played had a winning record at the time of the game.
I'll give you one more set of stats, before we talk some vague X's and O's:
Passer rating: Patriots, 1st (128.7); Dallas, 8th (93.9, badly impacted by Tony Romo's 5 interception performance Monday)
Defensive passer rating: Dallas, 3rd (64.8); Patriots, 6th (70.9)
The Patriots on Defense
The Patriots will have their hands full -- again. San Diego, Cincinnati and Cleveland either had or were supposed to have potent offenses. But Dallas is different. The Cowboys are completely healthy (starting wide receiver and former Patriot Terry Glenn has missed the whole season so far), and they have both a dangerous passing game and equally dangerous running game.
Romo's talent is showcased when he moves in the pocket or rolls out of it. Even on the right, he is fairly accurate and very proficient. He's aided by receivers who know when to break off their routes and how to find open space. Romo is most effective in his possession game, borne out by his performance Monday against Buffalo. He tried to force some deeper passes to near disastrous results.
Terrell Owens, despite a large number of recent dropped passes, is as lethal a target as any receiver in the league. The question is whether is head is in the game. Like New England's Randy Moss, Owens can line up anywhere on the offense and run every route imaginable. Dallas will probably put Owens in motion seeking favorable matchups (against linebackers if possible). Like previous contests against elite receivers, New England will want to put a body on Owens off the line to disrupt his routes and timing and increase his level of frustration.
Even containing Owens, Patrick Crayton has proven a reliable and productive target. But more than anyone else, New England will have to find a way to rein in tight end Jason Witten, the Cowboys leading receiver, a Ben Coates-style safety valve for Romo. Witten, Owens and Crayton have 29, 21 and 19 receptions, respectively, to go with 4, 3 and 3 touchdown catches. Romo is just as likely to seek and find running backs Marion Barber and Julius Jones out of the backfield.
Jones and Barber follow the mold of the equal partner backfield combination that's become very popular in the league, and every team seems to want to claim credit for starting the trend. Barber has shown himself to be more explosive as teams seem to concentrate on stopping Jones.
This is Romo's first experience against a Belichick defense, and you can almost guarantee (as much as you can guarantee Belichick will do anything) that the Patriots will show Romo most of the tricks in the bag -- lots of different formations, lots of blitzes and feigned blitzes from every angle, lots of different pass coverages.
The key for New England will be to apply pressure from Romo's sides to keep him uncomfortably in the pocket. That will be tough, because Dallas has a very solid offensive line, and the Cowboys will keep a tight end or running back in the backfield to block. New England will want to bump receivers off the line, but that may prove difficult.
Jarvis Green, who has been outstanding in relief of Richard Seymour, is going to need another huge game if the Patriots are to suppress the Dallas running attack. That will be especially important with Adalius Thomas ailing from a minor injury sustained against Cleveland last week, also because Green's backup, Santonio Thomas, is also nursing an injury.
If the Patriots can suppress the Dallas running game, a tall order to be sure, they may have the same success Buffalo did on Monday.
The Patriots on Offense
With Laurence Maroney a game-time decision and Dallas fielding a very good defense, the Patriots will probably keep the running game in their back pocket, exploiting opportunities opened by the passing game. Brady and company will likely open the game in "possession mode" -- lots of spread formations, short passes. Sustain drives and wear down the Dallas D.
The Cowboys will probably try to limit Moss the same way Cleveland did, so Brady will have to find the other receivers, as he always does. While blanketing Moss, Dallas will probably blitz often early in the game, at least until (if) that strategy fails. Brady has shown the ability to dump a pass in under 2 seconds, and he'll likely be looking to get rid of it quickly today. He'll have to watch for linebackers and d-backs jumping routes at the line of scrimmage.
New England will also attempt to defeat the blitz with screens and the "jumbo" set (an offensive lineman in a tight end position) if the personnel are available.
When opportunities present themselves, the Patriots will look for bigger gains, and with Terence Newman shadowing Moss, Brady will look to his other receivers, especially those covered by Jacques Reeves, backup of starter Anthony Henry who is out of the lineup.
If the Patriots have success throwing, they'll mix in the run when (a) Dallas plays off the line, and (b) occasionally against the blitz. The Cowboys have a lot of speed in their front seven. It's tough to get outside, and New England probably won't expend a lot of energy plowing into the wall early on.
"The 81s"
For those not familiar with football, Moss and Owens don't play against each other. It's not a key matchup. It's hardly even interesting.
Other Factors
Dallas kicker Nick Folk was perfect under tremendous pressure from 53 yards Monday Night (10 of 11 on the season), and punter Mat McBriar is one of the league's best in average punt distance, though the Cowboys coverage team leaves him outside the top-20 in net yardage.
Crayton is an efficient punt returner. He has a couple 20-yard-plus returns and a 49-yarder. Tyson Thompson has been merely adequate returning kicks. New England's coverage teams have been better than past years' squads.
The weather will be decidedly un-autumnlike (from a New Englander's perception) in Dallas. The temperature at kickoff should be around 83 degrees and shouldn't change much by game's end. No rain is expected, and winds shouldn't be a factor with that weird half-dome they have there.
Mike Carey will be today's head referee. According to The Boston Globe's Mike Reiss, Carey's crew averages 11 accepted penalties per game, only 5 last week in Indy vs. Tampa. Carey has reversed none of the five calls by his crew challenged by coaches. Belichick has not had much luck on challenges this season anyway.
Prediction: Patriots, 28-24.
Today's game will be broadcast by CBS on WBZ-TV (Channel 4) in Boston. Oh, no. It's Jim Nantz and Phil Simms. This is going to be brutal.
I recommend you turn down the TV and tune in to Gil Santos and Gino Cappelletti on the Patriots Rock Radio Network (WBCN 104.1 FM in Boston -- here is a list of New England radio stations that carry the simulcast.
Poll
Against the Dallas Cowboys (Week 6), the Patriots will ...
This poll is closed
... win by 10 or less.

(1 vote)

... win by more than 10.

(11 votes)

... lose by 10 or less.

(4 votes)

... lose by more than 10.

(2 votes)
18 votes total
Vote Now