Back from the Bye: Sights Set
Patriots Seek 4-0 Division Record
The league has done its best to hype this game, starting with "flexing" it to the 8:15 p.m. time slot. The New England Patriots remain undefeated, and they're traveling to their long-time division rival Buffalo Bills. Buffalo, incidentally, is tied with surprise force Green Bay for the second best winning streak in the league (4 games) behind New England.
Sounds good, anyway.
And, really, it had some potential. Used to be that Buffalo played the Patriots really tough there in upstate New York. But not recently. Buffalo won the "Lawyer Bowl" the week following New England releasing Lawyer Milloy just before the start of the season and Buffalo signing him. Buffalo won 31-0. Other than that game, the Patriots have won 13 of the last 14 meetings, including September's 38-7 win in Foxboro, and including the last three in Buffalo, none of them particularly close.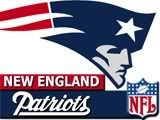 _ _ _

New England Patriots (9-0) vs. Buffalo Bills (5-4)
Ralph Wilson Stadium, November 18, 8:15 p.m.
Now the Bills very likely will be without one of their primary weapons: running back Marshawn Lynch, who has a somewhat serious ankle injury. The outlook is bleak, indeed, for Buffalo.
Look at the "paper matchup." New England is No. 1 in total offense (yards per game), while Buffalo is No. 31. New England is No. 4 in total defense; Buffalo is No. 28. Passing offense? Patriots, 2nd; Buffalo, 28th. Passing defense? Patriots, 6th; Bills, 26th.
Rushing is, as expected, a little closer, but not particularly close. Patriots rank No. 7 offensively and No. 6 defensively; Buffalo is 17th and 20th, respectively.
And both teams are top 10 in points allowed. Buffalo is 9th with 18.4, and New England is 5th with 16.3. But offensively, no surprise, the Patriots lead the league, but a lot, scoring 39.4 points per game. Buffalo sags at No. 27 with just 15.9.
But, as ESPN's Chris Berman has made popular: That's why they play the games.
Patriots on Offense
Give Buffalo credit. The Bills don't have a lot of players listed on their weekly injury report, but that's because several players were placed on injured reserve long ago. Despite their statistical rankings, they've won four in a row and they were about 10 seconds from having won six straight since losing to New England in September.
Realistically, it's hard to imagine a scenario -- outside of major injuries to major Patriots players -- where Buffalo can stop or even slow down New England's offense. Bills defensive end Aaron Schobel is battling illness and may not be 100 percent by game time. If he comes into the game healthy, that gives Buffalo a glimmer of hope; but, if he doesn't, Buffalo has little other than trying to make plays: forcing fumbles and taking advantage of Patriot mistakes.
With a bit of a breeze and an actual wind chill factor, New England may try to establish a ground game and try to wear down Buffalo early. If the breeze is light, the Patriots could take to the air, try to score quickly, take the crowd out of the game and put it out of reach early.
With no Sammy Morris and questions remaining about Laurence Maroney's durability, the latter is more likely. The line needs to continue playing at a high level (right guard Stephen Neal is questionable again with another shoulder injury) and give Tom Brady time. If they do, Brady should be able to pick apart the Bills secondary like he did in September.
Maroney, Kevin Faulk, Heath Evans and Kyle Eckel should be able to wear Buffalo down over time if not right away, and Faulk will be a double threat by coming out of the backfield on passing routes and screens.
Patriots on Defense
One advantage the Bills have is unpredictability, but that won't be an advantage long. There's no way to tell if they'll come out throwing and make themselves one-dimensional out of the game, or try to establish the run and possibly prove they are.
With Lynch in the game in September, Buffalo gained 110 yards on the ground, Lynch himself had 74 of them. Anthony Thomas, who would be expected to get the start today, didn't carry the ball once in that game, hardly even played. The Patriots will probably play the pass and pay Thomas no mind at all unless he (or Dwayne Wright) actually exploits the tenuous running defense.
There's virtually no reason not to drop most available linebackers and d-backs into coverage and see if a four- or five-man rush can put sufficient pressure on J.P. Losman. The Patriots defense will choose its spots to blitz or attempt to apply additional pressure. More likely, they'll give Losman no place to throw.
Other Factors
Buffalo has a very dangerous return game. Roscoe Parrish is the league leading punt returner (with more than 2 returns), averaging 19.4 yards per return. He's fair caught just two of 17, and he's returned two for more than 40 yards, including a 74-yard touchdown. Terrence McGee is tied with Ellis Hobbs on the kick returner list, and we all know what Hobbs can do. McGee has a 103-yard kickoff return for a touchdown.
Rian Lindell is a solid place kicker, having missed just 1 of 4 beyond 40 yards and 1 additonal beyond 50. Ryan Moorman is the best punter in the league, and the September game showcased him booting one about 70 yards with Moorman standing on Buffalo's end line.
Amazingly, with such mild weather in New England recently, the cold could be something of an advantage for the Bills. Game time temps should be in the mid 30s with wind chills slightly below freezing.
Bill Corollo, who is not a first-year head referee, is tonight's head official. This is Corollo's 12th year as a crew chief. His crew has yet to work a Patriots game this season.
Prediction: Patriots, 38-14. (Couldn't resist.)
Today's game will be broadcast on WHDH-TV (NBC) Channel 7 in Boston. Al Michaels presents the play-by-play and John Madden provides the color analysis. Andrea Kremer reports from the sidelines.
Do yourself a favor. Turn down the TV and tune in to Gil Santos and Gino Cappelletti on the Patriots Rock Radio Network (WBCN 104.1 FM in Boston -- here is a list of New England radio stations that carry the simulcast.
Poll
Against the Buffalo Bills (Week 11), the Patriots will ...
This poll is closed
... win by more than 10.

(28 votes)

... win by 10 or less.

(6 votes)

... lose by 10 or less.

(8 votes)

... lose by more than 10.

(1 vote)
43 votes total
Vote Now