Game of the Year, Part III
Patriots Host Steelers after Short Week
What's that blinding, molten orb in the sky?
After three straight prime time games, two on the road, the Patriots finally get to start a game before the sun sets -- almost. Sunset in Foxboro is 4:13 p.m. Kickoff is scheduled for 4:15-ish. This makes six straight games starting at 4:15 p.m. or later.
Sunday also marks the start of a three-game homestand, and New England is just one of three teams that has played seven road games this season, and the only one of those with a winning road record.
The prime-time and road schedule has taken its toll. Unlike Indy, who had some of its toughest opponents on long weeks, the Patriots have one of theirs on a short week after a road trip. And the Patriots have looked tired.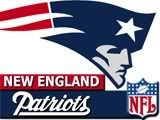 _ _ _

New England Patriots (12-0) vs. Pittsburgh Steelers (9-3)
Gillette Stadium, December 9, 4:15 p.m.
But there's nothing like a little home cooking to reinvigorate the spirit. A little sunlight doesn't hurt either.
On the line is a first-round playoff bye, which the Patriots can clinch with a win. That task will not be an easy one. Pittsburgh comes to town with the league's top-ranked defense -- second in rushing yards allowed (76.8), first in passing yards allowed (154.0), first in combined yardage allowed (230.8), and first in points allowed (12.9).
The Steelers are no slouches on offense either. Pittsburgh is third in the league in rushing (138.3 yards per game) and sixth in scoring (24.7 points per game).
These teams have a habit of ending the big streaks of the other. The Steelers ended New England's record streak of 21 consecutive games (18 regular season) on Halloween, 2004. The next season, the Patriots snapped Pittsburgh's 16-game regular-season streak on Sept. 25. The team that lost those regular-season matchups won that year's Super Bowl.
This is Pittsburgh's second trip to Gillette Stadium. The Patriots won the first, 30-14, on Sept. 9, 2002. The last regular-season meeting was that game when New England ended the Steelers' streak with a 23-20 win on Sept. 25, 2005. The Patriots are 4-1, including two AFC Championship Game wins, against Pittsburgh during the Tom Brady Era. New England's only loss was the 34-20 Halloween loss at Heinz Field.
Here's a few more general stats before the breakdowns: New England leads the league in turnover differential at plus 17. Pittsburgh is in positive numbers at plus 3. Both teams have an equal number of penalties, 62, but the Patriots have been penalized 70 yards more. New England has 31 sacks, Pittsburgh has 33. But the Patriots have allowed 16 to the Steelers' 35. They are also close in time of possession, but Pittsburgh has the edge, 34:41 per game to New England's 33:07.
Patriots on Offense
The Patriots counter Pittsburgh's No. 1 defense with the league's No. 1 offense: first in total yards (425.1 per game), first in passing (304.0 ypg) and first in scoring (39.1 ppg). Surprisingly, New England is No. 8 in the league in rushing with 121.3 yards per game.
Today we could find out a great deal about Laurence Maroney and Bill Belichick's plans with him. Has Belichick been playing possum, keeping Maroney in healthy reserve in advance of the tougher (toughest) opponents? Maroney hardly played at all in the first half against Philadelphia and he played sporadically in the first half against Baltimore (mostly the first series and running out the first-half clock).
The lack of a running game has allowed defense to pass rush with reckless abandon. One-third of all of Brady's sacks this season have come in the last two games. The Patriots have run (and often unsuccessfully anyway) run very few blitz-beating screen passes, and the draw ever-prevalent against Indianapolis, has been non-existent recently.
Pittsburgh, like Philadelphia, blitzes often; and the Steelers, like the Eagles, disguise them well. Constant five-wide sets will probably be as effective as they have been over the last couple weeks, which is not very.
Despite being without the services of Sammy Morris, New England will try to run an offense more similar to the early-season style with more runs, draws and screens. In fact, expect an ever-changing array of alignments with different numbers of receivers, tight ends and backs (maybe even that max-protect scheme that has been absent from recent game plans) with receivers lined up in different positions more often. Maroney looked great last week catching passes out of the backfield, so that will probably remain in the game plan.
If Troy Polamalu plays with a bad knee, the Patriots will probably test him early. More likely, Pittsburgh coach Mike Tomlin will hold Polamalu out early if not altogether. With effectively a pair of backups starting at safety, the Steelers will attempt to apply pressure at the line to compensate. New England will need to find a way to exploit that weakness.
The Patriots have had a severe case of the drops over the last couple weeks. Receivers will need to do a much better job corralling passes and holding onto the ball. There should be no 30-mph wind this week, so that should be less of a factor.
New England has also give up a few false starts at home, which is almost unthinkable. The Patriots need to eliminate those kinds of mistakes.
Patriots on Defense
While the Steelers boast that No. 1 defense, the Patriots are No. 3, though they have played a couple straight below-average performances. (Then again, the Steelers defense was aided by playing in a swamp the last two weeks.) New England is sixth in both passing and rushing defense, and the Patriots are fifth in points allowed with 17.4. Rodney Harrison promised the Patriots would make changes to shore up the defense.
There are two options: Either the Steelers will try to run it down New England's throat as Baltimore did successfully, or they'll come out passing because the Patriots will be keying on the run. The latter is less likely, because while Ben Roethlisberger has been posting great efficiency numbers (66.9 percent completions, 100.2 passer rating), his raw stats are not impressive.
Roethlisberger is working on a career-high in touchdowns with 25, seven more than another other year, and he has a relatively small number of interceptions with 11. But he also has only 2,564 yards this season, good enough to put Pittsburgh in 24th in passing offense.
Roethlisberger likes to think he's mobile, leading to his 35 sacks, but he does run well, and Pittsburgh occasionally runs the quarterback draw with some success, and the Patriots will have to watch for that.
Of course, the big concern is the Patriots rushing defense. The loss of Rosevelt Colvin means Adalius Thomas moves to the outside, leaving Tedy Bruschi and Junior Seau to man the middle with some relief from Eric Alexander, Chad Brown and others. The group looked completely overmatched against the Ravens' running game and Willis McGahee. They will have their hands equally full with Pittsburgh's Willie Parker. Backup Najeh Davenport, nursing an injured foot, is also a legitimate threat if the Patriots show little ability to stem the tide.
While the Patriots will stick to their base 3-4, they will probably mix in a considerable amount of 4-3. There may be a few more glimpses of Mike Wright and Le Kevin Smith. The line, particularly Vince Wilfork and Richard Seymour, need to play their best games of the season. If they can keep Parker from reaching the second level of the defense cleanly, that could alter the Steelers' plans.
Hines Ward, Santonio Holmes and tight end Heath Miller are Roethlisberger's primary passing targets, accounting for nearly two-thirds of all his completions and a great majority of the touchdowns. Obviously, Ward is the biggest threat, so expect Asante Samuel and James Sanders to switch off on coverage with safety help. The Patriots will probably try to cover Miller with a linebacker, but that might not work so well and may require a second-half adjustment. Holmes is returning after missing the last two games with an ankle injury.
The Patriots need to account for tight end Matt Spaeth near the goal-line, as he is a Vrabel kind of target with 3 touchdowns on 5 catches.
Other Factors
Don't expect the Steelers to make the glaring mistakes Philly and Baltimore made, and Roethlisberger has shown better decision-making abilities this year and probably won't heave the poor passes that A.J. Feeley or Kyle Boller did.
Steeler place-kicker Jeff Reed has been very good, missing just a pair of kicks (one in Denver, another in that slop against Miami and both longer than 40 yards), though he has just 21 attempts. Reed doesn't consistently kick deep on kickoffs. Dan Sepulveda is about an average punter.
Weather could be a factor late in the game, as a mix of light rain and snow is expected to move in late in the afternoon. Temperature should be steady just below freezing, and a very light breeze should have little impact. Both teams may pass more often earlier in the game in anticipation of the weather.
I'll post an update when I find out who will be the head referee.
Prediction: Patriots, 31-27.
Today's game will be broadcast on CBS, locally on WBZ-TV Channel 4 in Boston. Jim Nantz and Phil Simms will be rooting against New England, but not as much as Tony Kornheiser and Don Shula. Still, there's no reason to listen to the telecast audio.
Turn down the TV and tune in to Gil Santos and Gino Cappelletti on the Patriots Rock Radio Network (WBCN 104.1 FM in Boston -- here is a list of New England radio stations that carry the simulcast.