Hey, Patriots fans: Here's you chance to voice your live, game-time opinions to someone other than they guys around the TV. Post your comments below. We at Pats Pulpit will have a running commentary throughout the game.
I didn't get to write a game preview, so I'll use my pretty graphics here: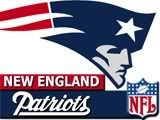 _ _ _

New England Patriots (0-0) @ New York Jets (0-0)
Sunday, September 9, 1 p.m.
Enjoy the game, and Go PATRIOTS!!
Update [2007-9-9 12:55:10 by tommasse]::
Today's inactives:
New England:
S Rashad Baker
LB David Herron
T Wesley Britt
G Billy Yates
TE David Thomas
DL Kareem Brown
DL Mike Wright
QB Marques Tuiasosopo (3rd QB)
New York:
OL Jacob Bender
CB Andre Dyson
S Eric Smith
FB Darian Barnes
DL Mike DeVito
TE Jason Pociask
WR Chansi Stuckey
QB Marques Tuiasosopo (3rd QB)