The New England Patriots flew over to London as the away team, ready to square off against the "home team" St. Louis Rams. Not sure if the marketing teams ticketed this as a Super Bowl rematch, but it was a game that could reveal plenty about the state of the Patriots.
Will they reach the half-way point of the season at a mediocre 4-4, with a shocking and miserable 0-3 record against the NFC West?
Or will they be 5-3, in the drivers seat of the AFC East and in sound position to possibly overtake the injured Ravens (one game behind) for a first round bye week.
Well, after the Rams first drive, the former seemed like a genuine possibility as the Patriots could do absolutely nothing to stop the St. Louis offense. Quarterback Sam Bradford threw for 3/3, 69 yards and a touchdown, while Steven Jackson pitched in an extra 6 yards rushing on two attempts as they marched down the field. Through his first five attempts, Bradford was 5/5 for 96 yards and a TD.
But then the New England defense started to show their design.
The Patriots stifling run defense held Steven Jackson to 23 yards on 7 attempts, and each down that Jackson wasn't generating the necessary yardage forced the Rams into -and-long situations. And while Sam Bradford completed a tick over 73% for his completion rate, the Patriots did a good job of forcing dump offs and keeping players shy of the first down marker.
Still, while the defense stepped up their performance, the clear story of the day was the Patriots offense and how they were able to score at will, opening with five straight touchdowns and then a field goal. And just how were they able to do so?
This sums it up: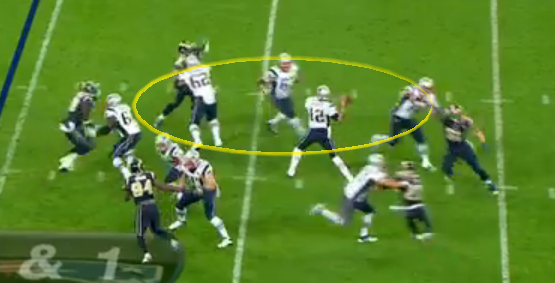 This was the Patriots blocking on Tom Brady's first touchdown throw of the night to a wide open Brandon Lloyd. Can protection get any more perfect than that?
Nate Solder and Sebastian Vollmer rendered Chris Long and Robert Quinn (One of the top three best pass rushing pairs according to Pro Football Focus) ineffective.

Donald Thomas, Ryan Wendell, and Dan Connolly had plenty of success in the middle against the defensive tackles.

Rob Gronkowski (bottom right) showed off his tremendous blocking ability.

Danny Woodhead (and Shane Vereen) contributed with some great blitz pick-up.
Every blocker seemed to have their way and the Patriots offense was able to keep Tom Brady clean and with a perfect pocket to make plays down the field. That picture sums up the Patriots afternoon and how perfectly the Patriots offense is able to function when they play within themselves and their capabilities.