This offseason, I have a unique strategy that is going to help us answer some major questions for the upcoming season and help us determine where we should go moving past this year.

I decided to start this article by listing (in order of importance according to me) the needs the Patriots need to address in this years offseason.
1. Wide receiver who you have to game plan around
2. OTs to keep Mac on his feet being able to find open guys
3. Boundary corner with size and the ability to save us from true number 1 WRs
4. Receiving running back to provide check downs and spell 'Mondre
5. Secondary depth (assuming DMcC retires, which I think he will)
6. Slot receiver (assuming Jakobi Meyers leaves for at least $15,000,000 a year which I think he will)
The New England Patriots have shown to be a team that is further away from competing for a title than I initially thought at the beginning of the 2022 NFL Season. But that's okay, because this is a position pretty much every franchise finds themselves in except for the few rosters that are loaded with veteran and young talent that can combine the two to form an incredible bond that can win a Super Bowl. Lucky for Patriots fans, they already have some of the major pieces required to start this process.
Let's start with listing the strengths, then we'll go to the weaknesses, and my plan to address those and put us back into title contention. I'm going to start by saying I am a massive fan of the NFL and the Patriots, but I'm also just a fan. So please don't shoot the messenger for the excitement he brings if he makes an error or his plan differs from your plan.
That being said I welcome any and all comments on how you'd do things differently or what points you agree on, as long as it's in a respectful manner. The New England Patriots have shown to be a team that is further away from competing for a title than I initially thought at the beginning of the 2022 NFL Season. But that's okay, because this is a position pretty much every franchise finds themselves in except for the few rosters that are loaded with veteran and young talent that can combine the two to form an incredible bond that can win a Super Bowl. Lucky for Patriots fans, they already have some of the major pieces required to start this process.
The Patriots Strengths
1. The best head coach of all time. But…… but……. It was Brady!
No it wasn't just Brady. It was Brady AND Belichick. It takes two to Tango, and very few teams in the league have coaches that can win a Super Bowl. You can count them on your hands.
Bill Belichick, John Harbaugh, Andy Reid, Mike Tomlin, Sean McVay, ???? Is that it?
You can make the argument that Kyle Shanahan or maybe Zac Taylor, or Sirianni or Daboll could possibly win a title soon or in the future but nothing is given in the NFL and for that reason I cannot put them in the tier above just yet.
So with that being said, we have the winningest active head coach with the most playoff experience, the most super bowl experience, arguably the best recruiting credibility, and the ability to win in ways I've never seen before (like the bills game where we passed 4 times). It doesn't get better than this for a head coach and I'm glad he's still here.
2. An improved coaching staff… this one is something I'm already excited for.
The Patriots coaching staff last year let down the players with bad schemes, bad matchups, bad coaching instruction, bad depth chart decisions, etc… bringing in Bill O'Brien and the other couple of coaches to help guide the players, improve the playbook, and change the outlook of the team is something to look forward.
All the guys they brought in have shown the ability to improve the environment they have been in, which is something last years staff couldn't exactly say.
3. Talented young players- okay I'm gonna name the players the Pats need to build around for the next 6-7 years.
Kyle Dugger, Mike Onwenu, Marcus Jones, Josh Uche, Jack Jones? Rhamondre Stevenson, Tyquan Thornton? Cole Strange
This list has some players with all pro potential (Dugger, Onwenu, Marcus Jones), some players with above average potential (Josh Uche, Rhamondre, Strange), and some players that I'm not sold on, but have the potential to be game wreckers (Tyquan, Jack Jones). Overall it is a very nice group of young talent that if they can keep together, they can continue to build off of with the help of mixed in veterans.
4. Financial and draft resources
The Patriots enter the 2023 off-season with the 6th most cap space, which can be improved to 3rd or 4th depending on if they extend the right players and make the right decisions.
They also enter with the 14th overall pick alongside a plethora of other draft picks in the upcoming draft.
With the above strengths they can take the already 8-9 Patriots and possibly make them 11-6, or 12-5. But here's how they should proceed in my opinion
Cut Trent Brown - saves $8,000,000 in cap space
Cut Lawrence Guy - saves $3,000,000 in cap space
Cut Devante Parker- saves $6,200,000 in cap space
Restructure Hunter Henry- cap savings of $4,000,000
Added years 2024, 2025
CAP SPACE MOVES UP TO $53,000,000
5. The Offseason Attack (Starting with Re-signings)
Re-signings
Signed Jonathan Jones 3 year deal at $7,500,000 a year. He is our guy and he is great. The elite speed and the elite versatility that he brings to our secondary cannot be rivaled. Resigning him all but guarantees a "run-it-back secondary" from last year where the losses are minimal. We add Jon Jones back and a tall boundary guy and we are set.
CAP SPACE DOWN TO $47,500,000
Signed Joe Cardano 2 year deal at $1,500,000 a year. Not really familiar with special teams guys on our team versus guys on other teams when it comes to guys at positions like long snappers, but I don't remember long snapping being an issue last year. Welcome back Joe!
CAP SPACE DOWN TO $46,500,000
Signed Jabrill Peppers for $3,000,000 a year for 4 years. Love his versatility, speed, youth, and aggressive tackling at times. Might have to play him in the box more moving forward with linebacker being a weakness of the team, but he still has potential that I would like to keep around, if possible.
CAP SPACE DOWN TO $44,500,000
Signed Mack Wilson for $4,000,000 a year for 4 years. Similar to Jabrill Peppers. Another year in this system in the books. This position is not a strength of ours, but bringing back familiarity, youth, and potential can't hurt.
CAP SPACE DOWN TO $41,500,000
Signed Jahlani Tavai for $2,200,000 million a year for 2 years. THIS MOVE WAS ALREADY MADE BY THE CLUB SO I MATCHED THEM TO KEEP THIS AS REALISTIC AS I COULD. Linebacker that brings experience, intelligence, and versatility.
CAP SPACE DOWN TO $40,000,000
6. The Offseason Attack (Free Agency)
The resignings to me seem somewhat obvious as the only hole that opens up is Jakobi's role in the offense. The slot, 3rd down, guy that is extremely reliable but has limited upside after the catch. But, if someone is going to overpay for the man, I'd be very happy for Jakobi as I have always liked the guy. Meyers getting paid $15,000,000 a year might be his realistic market being the number 1 or 2 best receiver on the free agency market. BUT, I'm looking for more upside at our wide receiver 1 position.
THIS IS HOW THE PATRIOTS SHOULD APPROACH THIS PART OF THE OFFSEASON. THE ONLY QUESTION WE SHOULD BE TRYING TO ANSWER THIS YEAR IS, "IS MAC JONES THE FUTURE QB OF THIS FRANCHISE?"
This is where it might get controversial for readers with differing opinions. Is Mac Jones the quarterback that we should commit to long term to try and win a Super Bowl? Some may say yes and others may say no. But the reality is that we do not know. After year 1, he looked like he could be the guy to develop and possibly bring home the ultimate glory for us in the future. After year 2, Mac Jones looked like one of the worst quarterbacks in the league (when given no real offensive minded coach, no real reliable offensive tackles or promising receivers, and no poise in the pocket when pressured). So, which Mac is the real Mac? That is the only question we should be answering this season. How do we answer that question? We set Mac up for success. If he cannot get it done, you start exploring other options. If he can win big games, complete comebacks, and lead us to the playoffs, then you can start feeling better about committing long term to the guy.
SO WHETHER YOU BELIEVE MAC JONES IS THE GUY LONG TERM OR NOT, WE SHOULD FIGURE IT OUT THIS YEAR. GIVE HIM HELP!!
Many Patriots fans will want to bring in Tee Higgins or Jerry Jeudy, and I'm not against either of those guys. I am against bringing in expensive WR talent for many many years without knowing 100% that Mac is our guy in the future. So, I propose we bring in savvy productive veterans on a discount to test Mac's ability. If Mac can get it done with the guys I am signing below, then we can make a massive investment to the wide receiver position moving forward in 2024.
Free agents
Signed OBJ for $15,000,000 million a year for 2 years. This one to me is obvious. I absolutely love Odell Beckham Jr. Every team he has left has collapsed offensively. One of the best wide receivers in the last 10 years, with the ability to absolutely beat you in every direction. Yes, OBJ is coming off a major injury but by the time he sees the field in August, he will be about 18 months removed from his Super Bowl injury. The last time we saw him on the field, he scored 5 touchdowns in the last 7 games, and single handedly opened up the field for the world champion Rams. I believe in his ability to rehab and make an impact in our passing game.
CAP SPACE DOWN TO $30,000,000
Signed Jarvis Landry for $5,000,000 a year for 2 years. Jakobi Meyers departs in my simulation. He probably signs for $15,000,000 a year for 4 years. Instead of committing 4 years to a wide receiver that has below average speed, and no home run potential; we instead replace his production with 2 years of OBJ and Jarvis Landry. They reunite after their stint at LSU and their short stint in Cleveland. Landry comes in predominately to replace the slot production, and OBJ is used in the red zone and for quick slant RPOs. Either way, we get a Superstar WR at a discount (coming off an injury) and a decent slot receiver to see if Mac Jones can efficiently do the job with solid teammates.
CAP SPACE DOWN TO $27,000,000
Signed James Bradberry for $13,000,000 a year for 3 years. This signing speaks for itself. Arguably, the best boundary corner in the game right now. I wouldn't compare this signing to Stephon Gilmore, as Bradberry has already proven his ability to be a superstar on the outside, and is a bit older than when we signed Gilmore (who was 27 when we signed him not 29 like Bradberry is). My strategy is quite clear. Sign older savy veterans at a discount (due to age or injury recovery) to join the young star talent we have, to test who we have (Mac Jones), and see who we need to invest in long term. He lead the Eagles secondary to the Super Bowl and will fit in fantastic next to Jonathan Jones, Jack Jones, and Marcus Jones (I AM ALSO MOVING JALEN MILLS TO FS BECAUSE OF THE MCCOURTY RETIREMENT).
CAP SPACE DOWN TO $16,600,000
Signed Jerick McKinnon for $3,250,000 a year for 2 years. Was there a better receiving threat from the backfield in 2022 than Jerick McKinnon? He finished 9th in receptions for running backs with 56 catches, 4th in yards with 512 yards, and 1st in touchdowns with 9 receiving touchdowns. He was on pace receiving with Fournette, Austin Ekeler, and Alvin Kamara. He comes at 1/4th the cost because of his age. He is another savy veteran that we can pair with Rhamondre Stevenson, alongside Pierre Strong and Kevin Harris to form one of the best running back rooms in the league. And it isn't too expensive and too big of a committment because it's only 3 million and only for 2 years.
CAP SPACE DOWN TO $13,000,000
7. The Offseason Attack (NFL Draft)
The last weaknesses we have that remain on the roster include both offensive tackle positions (I would prefer not to rely on Trent Brown even though we know he can play at a high level at times), a future succession plan for wide receiver, a linebacker we don't absolutely dread seeing on the field, a reliable kicker who can kick into the opposing teams endzones on kickoff, alongside upgrading other positions.
With that in mind, we enter the draft with
Trade for Titans 11, 46 for Patriots 14, 46, 107, 184:
I've seen multiple mock drafts where our pick at 14 has none of the big 3 Offensive Tackles, and the Jets are in a prime position to take one. My thought process is to hop them in the draft, and have an amazing chance to get the one we want. We have so many picks, it is worth giving up 107 and 184 to guarantee we get an offensive tackle to protect Mac and give him time to find his new weapons.
JUMPING THE JETS WHO NEED A TACKLE IS WORTH THE 2 LATE PICKS
PICK 11- PARIS JOHNSON JR., OT- The pick at 11 arrived, and all three OTs were on the board. That's not necessarily a bad thing. Yeah, we spent our draft capital to move up to 11 when we probably didn't need to move up but we can pick our favorite lineman here. I went with Paris Johnson who I believe has the most upside of all three big tackles. He has limited reps compared to Peter Skoronski and Broderick Jones, but the other two have red flags that I would avoid if I had the choice. Don't get me wrong, all three tackles have star potential but Peter's shorter arms and Broderick Jones's hand misses lead me to choosing Paris Johnson and his 6'6 310 lb. build. He has the most potential of the three in my opinion and I'd be happy to plug him in at OT to protect Mac Jones.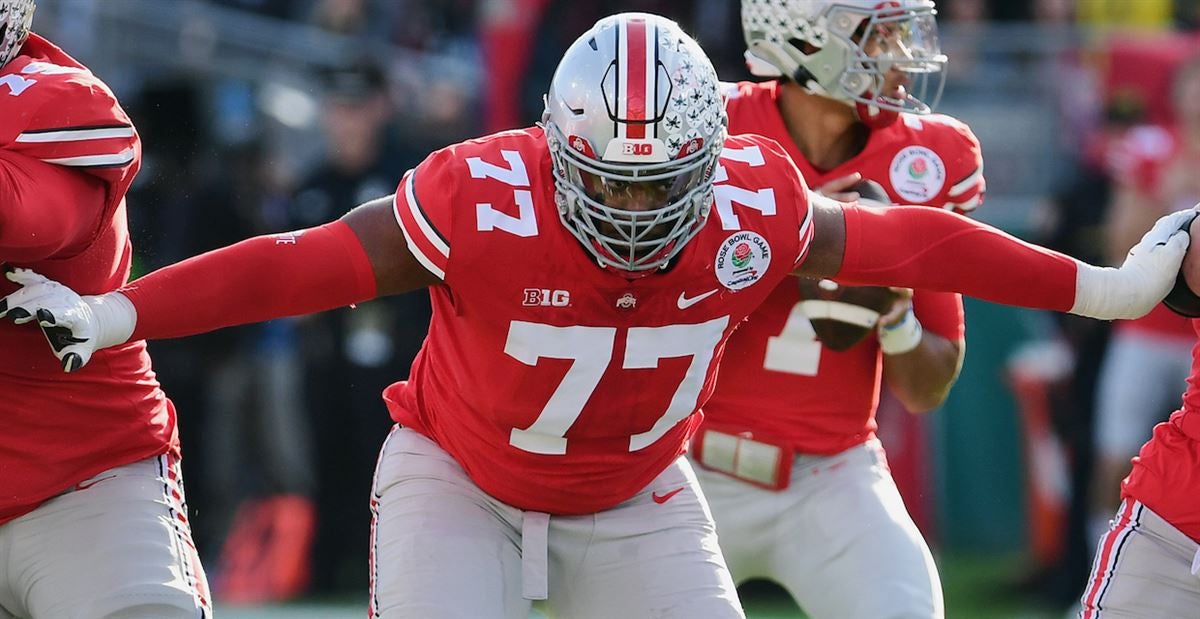 Trade for Rams 36 for Patriots 41, 258
PICK 36- DAWAND JONES, OT- I saw Dawand Jones sitting there at a place I could realistically move up to and went to grab him immediately. Darnell Wright went pick 35, and I got scared there might be a run on tackles. I made a move that is going to pay off huge dividends for years to come. I grabbed 6'8, 350 lb. massive mountain of a man Dawand Jones. I figured this meant we could cut Trent Brown or even use Big Trent as a replacement since injuries are insanely likely to happen to offensive lineman. He is a massive man that uses his size to move people in the run and pass game. Good luck getting around him and Paris Johnson.
We pair the Ohio State tackles together that lead the Buckeyes to 3700 yards passing and 42 passing touchdowns, alongside over 2,000 yards rushing and 30 rushing touchdowns. Our best case scenario lineman set up wise would be Paris Johnson Jr- Cole Strange- D. Andrews- M. Onwenu- Dawand Jones which would protect Mac very nicely. Worst case scenario, injuries plague us, and Conner McDermott comes in for insurance lineman relief.
Hopefully this solves the offensive line issue for at least half a decade.
PICK 76- NATHANIEL "TANK" DELL, WR- This is literally Marcus Jones part 2. Tank Dell being available around this time, meant I had to snatch him up. By securing this fast, twitchy, snappy route runner, we can leave Marcus Jones on defense and special teams. This dude is twitchy and fast. While he isn't the most efficient route runner, his upside cannot be ignored. Go ahead and try to defend Tyquan Thornton, Tank Dell, OBJ, KB, and Juice Landry. That's a lot of people that can beat you with speed and savviness. Tank might not be an immediate impact player with the wide receiver room starting to become crowded, but providing him time to develop his route tree and continue to improve is exactly what he needs.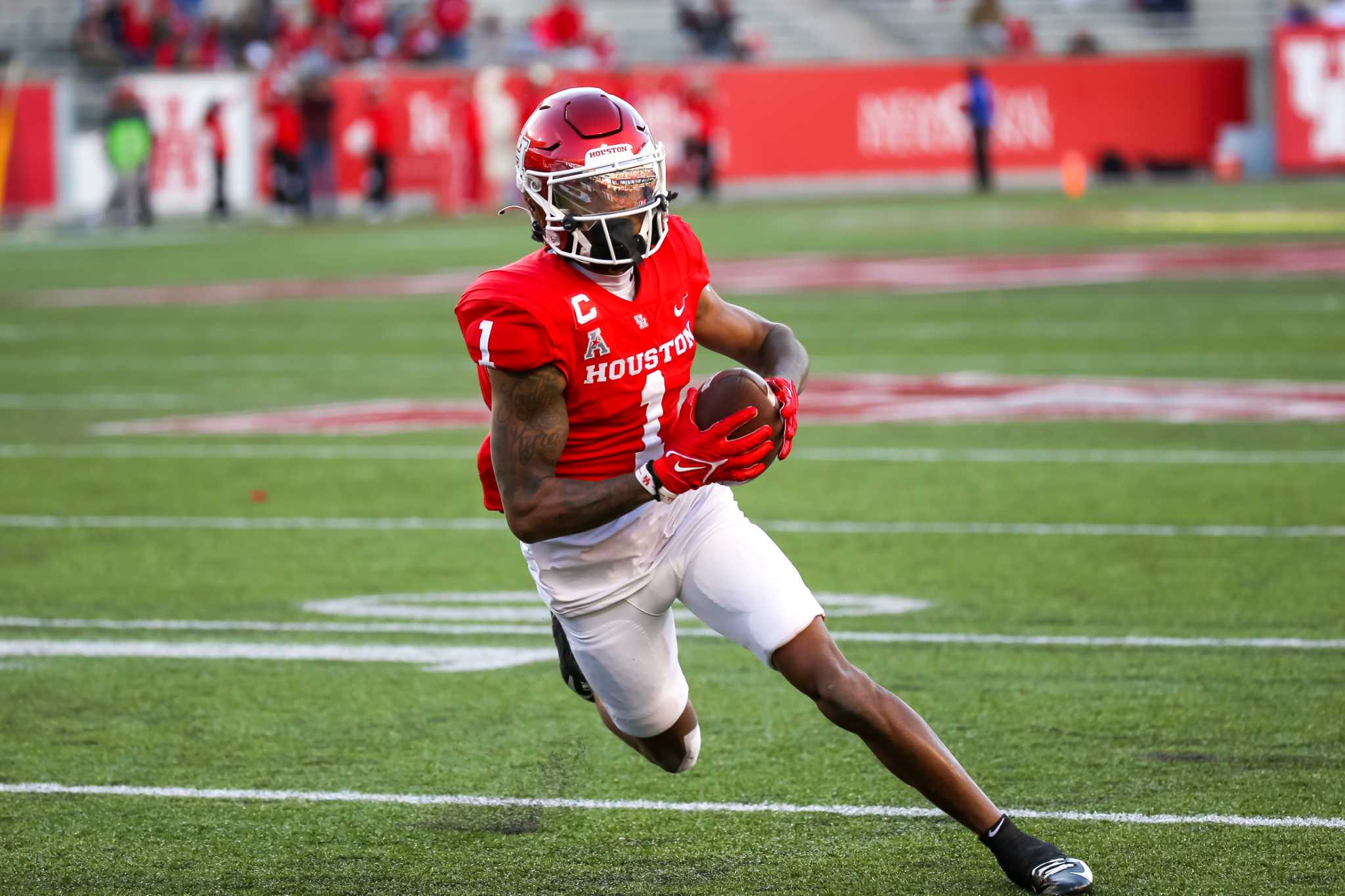 Trade for Eagles 94 for Patriots 117, 210, 2024 R4, 2024 R5
PICK 94- TRE'VIUS HODGES-TOMLINSON, CB- THT is what I'm going to call him. I may have slightly overpaid for this pick. Looking back I wouldn't trade up again this aggressive. But, that being said THT has as much potential as any corner in the draft. The Patriots have already proven they can be efficient with smaller and undersized cornerbacks. THT lead college football with 21 forced incompletions last year, but he is only 5'9. If the NFL is continuing to trend in the smaller, faster direction that it has continued to do, getting ahead of that curve can be very helpful. Marcus Jones and THT might be the mighty ducks to lock down our future secondary.
PICK 135- KARL BROOKS, DE- This pick was truly just best player available. Karl Brooks has a second round projection on PFF, and he was still available with this pick. DE isn't a position of need as of right now, but getting prospects that have potential is always a win. At 6'4 300 lbs. Brooks has the quickness he needs to become a decent edge rusher. His size and lower-body skills might be a hinderance in keeping him from one specific position which might be his downfall, but you never know what happens when guys reach the NFL.
PICK 187- JAKE MOODY, K- This pick speaks for itself. I was contemplating signing someone like Matt Gay to a long-term deal, but spending draft capital on a kicker makes sense this year as we have so many draft picks and a need for a cheap reliable kicker. Moody kicked for Michigan making him a cold-weather guy with a season long kick of 59 yards with an 82.9% field goal made percentage. He was second in the nation in extra points made and was absolute money in mid range kicks.
PICK 192- ERIC GRAY, RB- I wanted depth here. Runningback depth gives you flexibility to move on from McKinnon in the coming years or even Rhamondre. Running backs are so hard to project who will be a star and who will be a bust so this is my shot in the dark. Gray played on the Oklahoma Sooners with Rhamondre and had almost 1,400 yards and 11 touchdowns in his last year. While he doesn't have insane speed, he runs hard, cuts well, receives well, and breaks arm tackles. He is bouncy, and reminds me of Le'veon Bell in a way. On the slower end, but has good vision and runs well between the tackles.
To recap the depth positions on offense, we would enter the 2023 NFL season with
QB) Mac Jones / Bailey Zappe
RB) Rhamondre Stevenson / Jerick McKinnon / Pierre Strong
WR) Odell Beckham Jr., Jarvis Landry, Kendrick Bourne, Tyquan Thornton, and Tank Dell
TE) Hunter Henry, Jonnu Smith
OLINE) Paris Johnson Jr., Cole Strange, David Andrews, Mike Onwenu, Dawand Jones
To recap the depth positions on defense, we would enter the 2023 NFL season with
DE) Deatrich Wise Jr., Daniel Ekuale, Matthew Judon, Anfernee Jennings
DT) Davon Godchaux, Christian Barmore
LB) Ja'Whaun Bentley, Mack Wilson, Jahlani Tavai
CB) James Bradberry, Jonathan Jones, Marcus Jones, Jack Jones
FS) Jalen Mills, Jabrill Peppers, Joshua Bledsoe
SS) Kyle Dugger, Adrian Phillips
To recap the depth positions for special teams, we would enter the 2023 NFL Season with Jake and Jake leading the kicker specialists.
K) Jake Moody
P) Jake Bailey
LS) Joe Cardona
Use the rest of the cap space remaining to fill out the roster with more depths and guys that can get it done, and I feel like we can contend with this roster. We retain our high end talent (Jon Jones), add high end talent (OBJ, Bradberry, McKinnon), and keep our valuable draft capital to get book ends for Mac Jones to stay on his feet and see what he can do. Again, this year is a test year for him. With a real offensive coordinator and play caller at the helm, and insane depth with OBJ, Jarvis, Kendrick, Tyquan, Hunter, Jonnu, Mondre, and McKinnon, he will have no excuse but to put up some major points on the scoreboard. If he cannot do it, then he isn't the guy the Patriots need to commit to long term.
I welcome any and all comments, so long as they are respectful. I am just a person and a fan, and did the best I could with the limited knowledge of how cap space and contracts work in the NFL. If there is a major problem with something here, I apologize in advance.
GO PATS!